Portfolio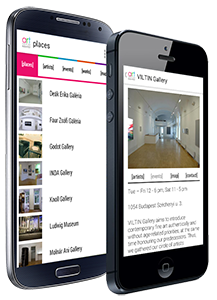 Interested in the contemporary art scene of Budapest?
Keep your finger on the pulse of Budapestís contemporary art life with the free app of artcenter Budapest. Get to know the most exciting galleries and museums and dive into the most interesting art works anywhere, anytime.
With artcenter Budapest you can easily:
- Look for up to date information on ongoing exhibitions;
- Browse inspirational images of art works and exhibition highlights;
- Discover in detail the works of the most exciting Hungarian contemporary artists;
- Locate on the map the art spots closest to you.